Russell Bowman Art Advisory

311 West Superior
Suite 115
Chicago, IL 60654

Tues-Wed. by appointment
Thurs - Sat 10-5:30
T 312 751-9500
F 312 751-9572
info@bowmanart.com
CURRENT EXHIBITON
ROGER BROWN: VIRTUAL STILL LIFE
September 5 - November 1, 2014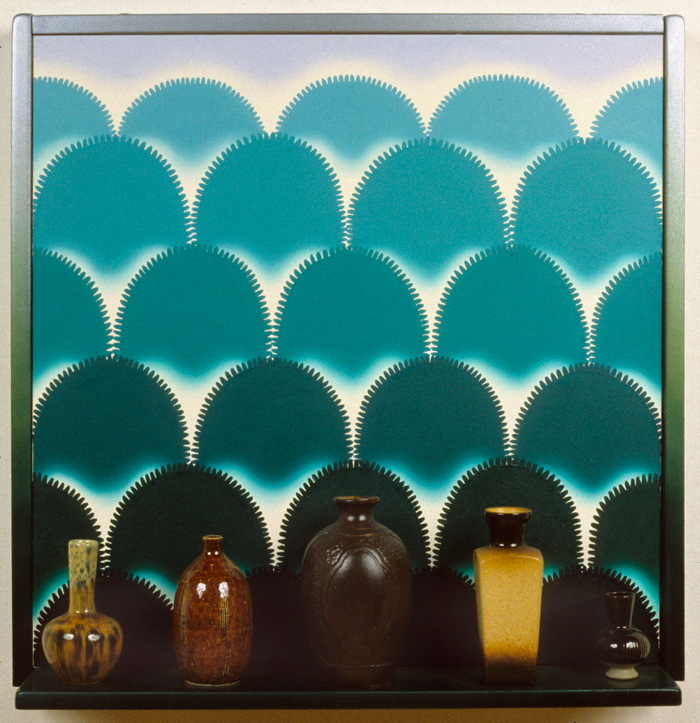 VSL # 8: Vases with a View, 1995
Oil on canvas, mixed media
25 x 25 1/2 x 7 inches
Two years before his death in 1997, Roger Brown completed a series of twenty-seven paintings with attached ceramics called Virtual Still Life. Although earlier in his career Brown had created paintings on found objects or with found objects attached, this was his largest and most coherent series of object/paintings. Based on the kinds of common ceramics he was collecting and displaying at his home in California, the paintings employ his typical stylized landscape motifs in response to the colors and shapes of the ceramics attached to shelves at their base. Shown to mixed reviews at Phyllis Kind Gallery in 1996 and the subject of an extensive exhibition at the Hyde Park Art Center in 2010, Roger Brown: Virtual Still Life presents the last eleven examples from this series outside museum and private collections.

Opening reception: Friday, September 5, 5:30-8:00 pm
Click Here to View Images from this show
EXHIBITION HOURS:
Tuesday - Wednesday by appointment; Thursday - Saturday, 10:00 - 5:30
----------
In additon to the gallery program focusing on modern, contemporary and self-taught art, Russell Bowman Art Advisory provides complete collection development and management services for private collectors, corporations and institutions. Services include collection planning and acquisition, coordination of appraisals, conservation, framing and installation, private sales and donations to institutions.
Sales to private clients in Chicago, New York and Milwaukee and to institutions including The Art Institute of Chicago, Pennsylvania Academy of Fine Art, New Orleans Museum of Art, Menphis Brooks Museum of Art, Akron Art Museum and others.

© 2003-2014 Russell Bowman Art Advisory, all rights reserved